London's 'lost' film history is catalogued online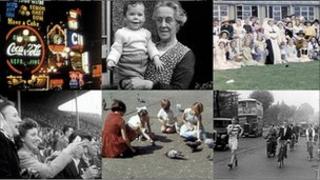 More than a thousand unseen films of London life over the past 100 years have been catalogued and put online.
The films, some dating back to 1912, had been languishing in local authority libraries.
Now restored and digitised by London's Screen Archives, they include footage of celebrations of the Queen's Coronation in 1950s Hounslow.
The new archive will be completed by Londoners contributing their own films.
With funding from Screen Heritage UK and Film London, the project is the culmination of almost two years of work.
Many of the films were on formats ranging from cinefilm to VHS and had remained in storage in film archive libraries kept by local London authorities and other organisations.
350 hours
As technology advanced, these films became largely inaccessible to view.
After being restored and transferred from their original formats, they now form an online resource unlocking the capital's history on film.
More than a thousand films with a combined running time of over 350 hours will be brought to light when the London's Screen Archives website launches on Wednesday.
Included in the collection is a 1970 Camden road safety film starring boxing champion Sir Henry Cooper.
Newly discovered footage also shows children dancing around a Maypole in Peckham in 1932 and a public gas exercise in 1940s Bexley.
Rebekah Polding, a heritage manager at Film London who oversaw the project, said: "Until now if you wanted to find this material it was very difficult - there was no way of knowing what films had been stored and where, and even if you did, there would be no easy way to watch them.
"Now we've got one central online catalogue that brings everything together."
Ms Polding said she believed the public appetite for archive film was "at an all time high".
As a measure of this, Londoners are being asked to help complete the project by contributing their own film footage to the collection.
"We're hoping people will come forward with more of their home movies when they see how amazing it is to see what life has been like here in other decades," an LSA spokesman said.
A selection of films from the archive will be screened at local history events to be staged in venues across London in October.