Stratford Centre braces itself for Westfield's impact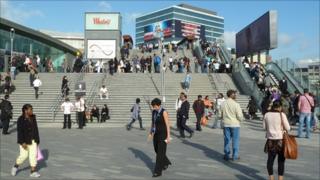 The opening of Europe's largest urban shopping centre casts a large shadow over the Stratford Centre in east London.
The centre, an incongruous mix of high street retailers and independent market traders, has served as a town centre for Stratford's 200,000 population for the past 35 years.
Most residents walk through the Stratford Centre to get to the railway, bus and Tube interchanges every working day.
The arrival of Westfield right across the road threatens to shift the focus of the whole area.
An opportunity
Ilan Goldman is a director of Catalyst Capital, an investment company who bought the Stratford Centre a year ago for about £90m.
"I've heard people are concerned that now Westfield is here, the Stratford Centre will close down and it couldn't be further from the truth," said Mr Goldman.
While he admits that there are "concerns" and says there may be a negative impact for the next few weeks, Mr Goldman is also eager to see Westfield as an opportunity.
"Westfield appeals to a different demographic and not necessarily the Stratford demographic.
"We are a convenience and value offer and they offer more lifestyle shops. We think the two schemes work well together.
"People will go look across the road and I suspect they will then come back again to what they know."
Across the road
Lyn-dae Stewart, 19, is one of those people who have gone for a look across the road. She lives "literally five minutes away".
"This is like Lakeside but bigger and more exciting," she says.
"I'll still go to the Stratford Centre because of habit. I've been going there since I was born."
Ms Stewart, and thousands of others, came early on the opening day hoping to be one of the first people to get a new item or a free goodie bag that some stores are offering.
Within hours of opening, Westfield's Stratford City is crammed full of shoppers although it feels like a typical shopping experience.
Many visitors are walking around with a map of the giant development that are handed to them on arrival. Some areas are blocked off for VIP appearances and there is a heavy security presence.
There are groups of retail executives walking around eagerly inspecting their new shop floors.
Every now and again, a gang of carpenters and builders can be seen walking hurriedly - an indication perhaps that just a few weeks ago this was still a building site.
'Feels like Vegas'
Westfield's numbers are impressive. The £1.45bn complex houses more than 300 stores, 70 restaurants, a 14-screen cinema, three hotels, a bowling alley and the UK's largest casino.
In addition, it has created around 10,000 jobs, about 20% of which went to the long-term unemployed in the local area.
About 80% of visitors to next summer's Olympics are expected to walk through Westfield to reach the Olympic Village.
"It's huge, you come across the bridge and you go up the escalators and it feels like Vegas," says Joanne Salter who works for a company that is opening a store in Westfield.
Has she been to the Stratford Centre?
"No, that will just go down. Everybody will come here."
Uncertain future
The hustle and bustle of the Westfield is certainly in stark contrast to the more sedate atmosphere back at the Stratford Centre.
Norman Williams has been a stall owner in the market for 25 years.
"It could bring more and different people to the area or it could close us down. We don't know," he said of the new shopping centre.
Mr Williams though remains optimistic.
"It might be a good thing. The first few months might be a struggle. People may go over there, look around, see that it is expensive and then maybe they will drift back here."