Ministers agree to controversial hospital shake-up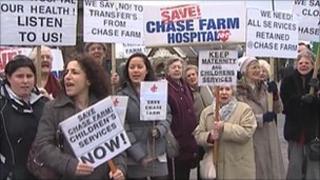 A hospital that David Cameron vowed to save while in opposition is set to lose its A&E and maternity units.
The long-awaited decision by ministers means Chase Farm in north London will concentrate on non-emergency care.
Local patients will instead have to rely on the nearby North Middlesex and Barnet hospitals.
The ruling - the first real test of the government's approach to hospital closures - effectively backs the proposals put forward by the local NHS.
In opposition David Cameron had promised a "bare-knuckle fight" over the closure of local hospital services. At one point, he even promised to protect Chase Farm from what he said was an "unjustified" top-down reorganisation.
Contested
But there is a growing consensus within the health service and among independent experts that the NHS has too many hospitals.
The original proposals were put forward by NHS London, but were referred to the government after being contested by Enfield Council and local campaigners.
Ministers then asked the Independent Reconfiguration Panel (IRP) to review the plans. Its advice - published on Monday - supports the proposals and ministers have accepted they are necessary.
Health Secretary Andrew Lansley said: "I know how strongly many local people and their representatives feel about this, and about the future of Chase Farm in particular.
"However, the safety and sustainability of local NHS services have to be the priority for all involved, and, as the IRP advice makes plain, both are at significant risk unless decisions are taken."
While it will lose its A&E, Chase Farm will get an urgent care centre which deals with more minor injuries and conditions. The most straightforward births will also continue at the site as there will be a midwife-led maternity unit.
Nonetheless, the decision represents a significant scaling-back of the hospital, the management of which is likely to be merged with North Middlesex.
Enfield Council leader Doug Taylor said: "The secretary of state said he would listen to Enfield's residents and he has not.
"Closing the A&E and maternity departments is a slap in the face for local people who overwhelmingly support retaining these services."
He said he believed the changes would have a "devastating effect on healthcare in our borough" and pledged to continue to fight them.
But Mike Farrar, the chief executive of the NHS Confederation, which represents managers, praised the decision, saying it was a "major test case for the whole NHS".
He added: "There are a number of places where we need to make similar decisions for service changes of varying sizes up and down the country.
"In some cases, this will involve taking out posts and beds where it is in the interests of patients.
"The NHS needs to do more to explain to people why that is the case."
Labour said the decision was a "big humiliation" as voters would see it as yet another "broken NHS promise".