Barn owls born at reserve next to Crossness sewage works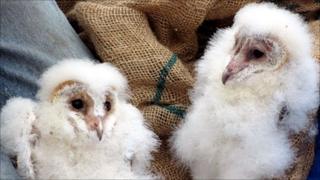 A nature reserve next to a sewage works in east London has two new residents - a pair of baby barn owls.
Plop and Flo are the first arrivals at Thames Water's Crossness site since work to expand the plant began in spring 2010.
The pair have been ringed by experts who will now monitor their progress.
Barn owls are protected by law but their numbers have declined as a result of rodent poisons and the loss of traditional nesting and roosting sites.
Karen Sutton, manager of Thames Water's Crossness Nature Reserve, said: "The last time we had barn owls breed at Crossness was in 2007 so we were over the moon to see the arrival of Plop and Flo, in the same box our owls have bred in the past."
The ongoing £220m upgrade at Crossness sewage works is due to be finished in 2014.