Princess Beatrice graduates from Goldsmiths College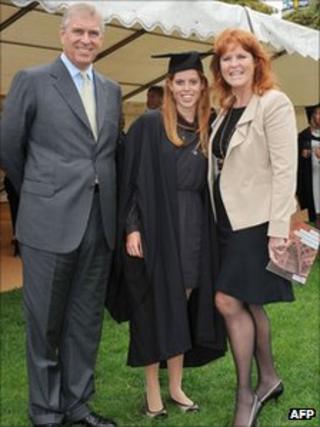 Princess Beatrice has graduated from the University of London and is due to start a series of internships.
The 23-year-old gained a 2:1 degree in history and the history of ideas from Goldsmiths College.
Her graduation was watched by her father Prince Andrew, the Duke of York, and her mother Sarah Ferguson, Duchess of York.
Buckingham Palace said the internships would help to "complement" her position as a member of the Royal Family.
The graduation ceremony was held in Goldsmiths' great hall on its campus in New Cross, south-east London.
The princess wore the traditional graduation dress of a mortar board and gown, which had a brown hood, the colour of a bachelor of arts degree from Goldsmiths College.
Just like her fellow graduates, she will receive her degree certificate in the post in the next few weeks.
A Buckingham Palace spokesman said: "Princess Beatrice will over the coming months broaden her knowledge and experience to complement her position as a member of the Royal Family.
This will involve undertaking a number of internships to develop her experience, particularly in business and philanthropy."
Beatrice is a young ambassador with her mother's charity Children in Crisis and supports the Teenage Cancer Trust.