Schoolchildren lose police 'kettling' case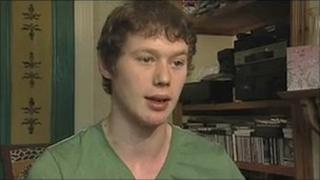 The Metropolitan Police acted lawfully when they "kettled" three teenagers during the tuition fee protests in London, the High Court has ruled.
Adam Castle, 16, his sister Rosie, 15, and Sam Eaton, 16, all from north London, were held at Trafalgar Square on 24 November for about seven hours.
They said their human rights had been breached, but judges dismissed their claims for damages.
The judges said the Met's action was "necessary, proportionate and lawful".
The court heard at an earlier hearing that the teenagers were among 10 friends who gathered with thousands of others at Trafalgar Square during the demonstrations.
They set off to march towards the Houses of Parliament, but as they moved down Whitehall officers used the tactic of kettling to contain them, fearing a breach of the peace.
'We were punished'
Martin Westgate QC, appearing for the teenagers, said children were consistently asking the police to be released but not being permitted to leave.
Outside court, Adam said: "We were punished for protesting and everyone was left demoralised.
"It was one of the coldest days of the year and we had not been prepared for being held into the night."
Mr Westgate said one 11-year-old boy was not released until after dark.
He argued police commanders failed to take account of their duties under section 11 of the Children Act 2004 to safeguard and promote the welfare of children and to support their right to demonstrate and enjoy freedom of expression under the 1998 Human Rights Act.
School uniform
Ivan Hare, for the Metropolitan Police, told the judges police had not been legally required when planning their response to separately address issues relating to children.
He added frontline officers were identifying and removing vulnerable people from the crowd during the kettling, with a police helicopter overhead instructed to scan for those in school uniform.
Mr Hare argued that lawyers for the three applicants, who were not in school uniform, had "over-stated" the nature of the duty imposed on the police by the Children Act.
Lord Justice Pitchford and Mr Justice Supperstone ruled in their judgement that any interference that did take place with the teenagers' rights to liberty and to demonstrate "was for a legitimate reason, in accordance with the law, and proportionate to the legitimate aim of preventing an imminent breach of the peace".
The Children Act required police chiefs to take account of the need to promote the welfare of children, "however we do not consider that the defendant [the Commissioner] was in breach of this duty or any of his public law duties.
"Accordingly the claims will be dismissed."
Any application to appeal against the ruling will be dealt with at a later date.