Conker throw row led to Steven Grisales stabbing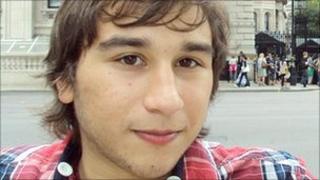 A man was killed after he confronted a group throwing conkers at him, police have said.
Student Steven Grisales, 21, was pelted with the missiles as he walked to Silver Street station in Edmonton, north London, on 31 August.
But moments later he was knifed in the heart and died of his wounds in hospital the next day.
Two 15-year-old boys arrested in connection with the murder remain in police custody.
A 16-year-old girl and a 19-year-old man also held in connection with the killing have been released on police bail.
A post-mortem examination gave the cause of death as a single stab wound to the heart.
Set upon
Just weeks before he was attacked Mr Grisales, who lived in Enfield, north London, had returned to London from Argentina, where he had moved to live with his father.
He had been hoping to start a three-year architectural course as part of a scholarship from Westminster College.
Detectives believe he was set upon by up to three young males, possibly in their late teens or early 20s.
Det Insp Richard Beadle said: "It happened in a busy residential area and we know there would have been a number of people in the area at the time of the attack.
"We really need those people to talk to us."
Officers are due to return to the area at on Wednesday evening to talk to anyone who may have been present at the same time last week.