Government plans to remove Parliament Square tent village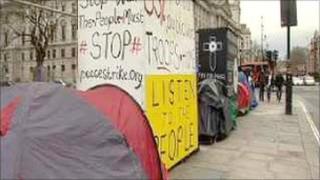 Protesters camping on the pavement in London's Parliament Square could be removed under government plans.
Campaigners set up "Democracy Village" on the green in May 2010 but were evicted in July by the Greater London Authority following a High Court order.
But many protesters then pitched tents on the pavement next to the lawn, which is controlled by Westminster Council.
Policing Minister Nick Herbert said the government had brought forward measures to help remove the tents.
Banners and flags
There are about 30 tents on the site.
They have maintained a presence on the street for 14 months displaying signs, banners and flags protesting about a range of issues including the war in Afghanistan.
Answering a written Parliamentary question from Conservative MP David Amess (Southend West), Mr Herbert said: "The government has brought forward measures in the Police Reform and Social Responsibility Bill to assist in the removal of tents on Parliament Square.
"The government has liaised with a number of agencies including Westminster City Council, the Greater London Authority and the Metropolitan Police Service on the issue."