Public race to be first event in 2012 Olympic Stadium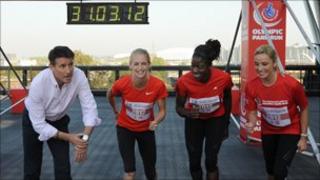 Members of the public are to be given the chance to be the first runners to cross the finish line at the Olympic Stadium before the 2012 Games.
The Olympic Park Run on 31 March will give 5,000 runners of all abilities the opportunity to take part in a five-mile run around the park in Stratford.
The event will finish with a dash to the line in the main stadium.
The application process to enter the race, organised by the National Lottery, opened on Friday.
A Lottery spokesman said: "This is a once-in-a-lifetime opportunity to run on the track that the world's elite athletes will compete on, against a stunning backdrop of venues."
Would-be competitors have a four-week window to apply before online entries close at midnight on 27 October 2011.
Places will then be allocated by ballot and entrants will be notified of the outcome by 4 November.
The route will take place entirely within the Olympic Park, meaning competitors will run past many of the other main Olympic venues which include the Velodrome, Aquatics Centre and Basketball Arena.
It costs £15 to take part in the event, which is open to runners aged 16 and over.
The entry fee includes two spectator passes so friends and family can see the finish in the Olympic Stadium.
Competitors in wheelchairs and blind or partially sighted runners can enter the race.
The National Lottery is contributing up to £2.2bn towards the funding of the London 2012 Olympic and Paralympic Games, including the venues and infrastructure.
London 2012 chairman Lord Coe describes the run as a "thank you" both to Camelot and members of the public who have backed the £9.3 billion Olympic project.
He said: "I think it is fantastic for people to be able to say they were the first people to run officially on the track and to run around the Olympic Park.
"They will also be able to have their friends and family with them cheering them on in the stadium - that will be something happening for the first time. I think it is a lovely idea."
The only official test event in the Olympic Stadium will be the British Universities and Colleges Sport Championships in May.
The 2012 athletics events get under way on 3 August, a week after the start of the Games.