Are Londoners ready for parish councils?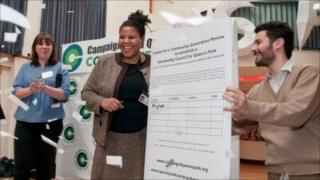 Parish councils have provided grassroots democracy across most of England for more than a century.
Yet until recently parish councils could not be established in the capital.
The 1963 Greater London Act, which abolished the administrative counties of Middlesex and London, also scrapped all parishes that fell wholly within Greater London and stated that nowhere in Greater London was to form part of any parish.
But the Local Government and Public Involvement in Health Act of 2007 lifted the bar on parishes, allowing their return to London.
Now a Westminster ward is poised to become the first place in the capital to establish its own version of a parish council.
Queen's Park wants to set up a community council to carry on the work of its elected neighbourhood forum, which is threatened by funding cuts.
The legislation requires proposals for parish councils to be backed by more than 10% of residents.
Campaigners in Queen's Park have secured 1,600 signatures - some 20% of the electorate.
The ball is now in the court of Westminster Council, which has responsibility for consulting on the proposals and recommending whether or not a community council should be established.
Council leader Colin Barrow said the council welcomed people wanting to get involved in "shaping their communities".
'Hard to dismantle'
The attraction for Queen's Park residents was the parish model's sustainable funding, which is generated through a precept - an extra charge added to council tax.
Community council campaigner Angela Singhate said permanency was a major asset. "Once it's established it is hard to dismantle a parish council."
There are 9,000 parish councils across England, some of which have been established for decades.
Town clerk Linda Larter has already set up a parish council in rural Essex and was the first clerk at Weston-Super-Mare Town Council. She said there were many different motivations for setting up a parish council.
"Either the community feels neglected and wants to take control themselves, or it could be because of some issue.
"It could be planning, it could be the loss of a hospital that brings people together. Once they've done that campaign they realise they can do more as a community."
For the campaigners in Queen's Park, having some form of local representation would enable them to tackle the issues that matter to the community.
"While we are in Westminster, we have a lot of issues exclusive to our area, as opposed to Marylebone or Soho," said another Queen's Park resident, Emma Sweeney.
"That's why we feel neglected and are pushing for a voice."
While waiting for Westminster Council to complete its review, campaigners are drawing up a wish list for the community council.
They have suggested that the precept should be about £2 to £3 a month, most of which would go towards staffing the office.
Ms Sweeney said the parish council would concentrate on "people-focused" projects such as an older people's club and family support.
The National Association of Local Councils (NALC) is working closely with Queen's Park and other groups proposing to establish parish councils.
Justin Griggs, NALC head of policy and development, said the biggest hurdle for embryonic community councils in London was the lack of awareness.
"I think the understanding and the information that people have in communities in London is only starting to get through," said Mr Griggs.
"Very local governance in London has been missing since the 1960s."
Another struggle is overcoming vested interests including local authorities, councillors and existing resident groups.
Currently, proposals for local government have to be rubber-stamped by a local authority.
In Queen's Park, however, the awareness of a high-profile elected neighbourhood forum has helped the campaigners to get their message across.
"A lot of people round here hadn't heard of a parish or a community council," said Ms Singhate.
"There was a lot of explaining to do. But when we told them why we were doing it, most people were happy to sign the petition."