London council urges government to decide on Chase Farm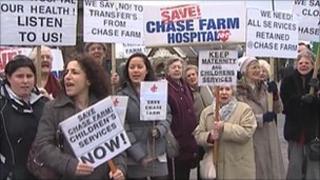 A London council has urged ministers to end speculation surrounding services at its local hospital.
Enfield Council fears that plans to merge Chase Farm Hospital and North Middlesex Hospital will pave the way for future closures.
Health Secretary Andrew Lansley is considering whether to close the A&E and maternity departments at Chase Farm Hospital as part of NHS reorganisation.
The ruling would be the first in the UK under the government's NHS reforms.
NHS London has proposed Chase Farm close its A&E and maternity service.
Following representations from the council, the health secretary asked for other options for hospital services in north London in March 2011.
PM's pledge
The council said its 10 recommendations, which include the protection of all services at Chase Farm hospital, were backed by the Save Chase Farm Campaign Group and many local residents.
In a statement, Enfield Council said the majority of Enfield residents were against any closure of A&E and maternity services and it is urging the government to listen to public opinion and retain both units.
Enfield Council's deputy leader, Councillor Achilleas Georgiou, said: "Any merger must ensure the retention of a range of high quality services on each site, including A&E and maternity services.
"We estimate, based on deprivation, that Enfield is underfunded to the tune of £70m compared to similar London boroughs."
The prime minister publicly pledged to cancel plans to close the two units when he visited Chase Farm Hospital as the leader of the opposition in 2007.
A spokeswoman for the Department of Health said it would respond "in due course".