Knocking on the London rioters' front doors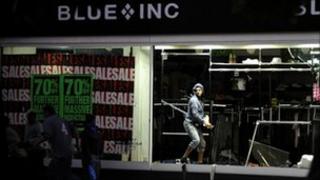 It was with a sense of trepidation that we set out to knock on the doors of self-confessed rioters.
After London's worst public disorder for a generation, BBC London wanted to find out who the looters really were.
So we used magistrates' records to choose a representative selection of confessed rioters.
Then we simply turned up on their doorsteps.
First stop was the home of a 22-year-old a florist who admitted handling looted goods - an Argos chainsaw and hedge trimmer.
Westminster Magistrates' Court sentenced him to 22 weeks in prison.
'A good boy'
But his family were surprisingly accommodating.
Speaking at the florist's terraced house near Elephant and Castle, south London, his father said: "He's a good boy - never been in any trouble, always worked.
"He'd been to football and came through Tesco's car park. There was loads of stuff lying around. He got a chainsaw, brought it home.
"The next day police arrested him, he went to court and got almost six months."
The father continued: "He would have known [it was looted]. Everyone knew what they were doing. It was the temptation.
"He's in Wandsworth - there are some nasty people in there."
He added: "The first week it was a media circus so they jailed everyone but now people get away with fines - is that justice?"
In 2010, 3.9% of people given on-the-spot sentences by magistrates in England and Wales were imprisoned (36,363).
Of the London rioters given on-the-spot sentences by magistrates, 65.3% have so far have been imprisoned (60).
It was hard not to have sympathy for the family. But the florist knew he was breaking the law - and the maximum penalty is 14 years.
Next stop was a housing block in Tulse Hill, south London - home to not one but two looters.
Jaleesa Thomas, 20, and Sinead McCaffery, 18, are neighbours.
They both admitted looting a Currys store in Brixton - taking a vacuum cleaner and a television respectively.
We knew they would be in - because their bail terms included a curfew.
We rang on the intercom to no avail. A neighbour confirmed Sinead was in and passed our message on.
But the pair showed a reluctance to speak about their misadventures.
It was a big disappointment.
Not only was this this closest we had got to a living, breathing looter - they were legally compelled to be just metres away - but there were still so many questions unanswered.
Were they best friends? Did they have any regrets? And why a vacuum cleaner?
Both will be sentenced at Inner London Crown Court shortly.
A few miles away was a St Mungo's residence for homeless people in Clapham - former home to Michael Pearce, 32.
White Lightning offer
Pearce is now in custody awaiting sentence after admitting handling electrical leads and bicycles worth a total of £2,649 looted from Richer Sounds and Cycle King in Croydon.
We got a lively reception - including the offer of some White Lightning cider. We politely declined.
But there were no shortage of people wanting to talk about Pearce, nicknamed "Dread".
Once again they claimed the offence was completely out of character.
Asked why he got involved, one resident, Anna, said: "I really don't know. He's never been in trouble and he's a really nice fella.
"People knew they could get away with it and thought they weren't getting caught.
"But obviously they were getting caught. We stood there watching people getting all the tellies."
Another resident said: "He was quiet, very quiet. It's not like him to do a thing like that.
"Now he's lost his bedspace.
"I didn't go up there. I could have, but I didn't."
At the Loughborough Estate, near Oval, we called in on a John Alexander, 29, who is awaiting sentence for handling stolen goods from TD Sports.
Once again we rang on the intercom for a lengthy period without reply.
It was dark by then and we were attracting unwelcome attention - it was time to move on. Another miss.
'He deserves it'
There was just time for one more visit - to the home of an 18-year-old in Guildford Road, Lambeth.
The teenager admitted handling stolen goods from Primark and Footlocker.
He was on conditional discharge at the time and was also caught in possession of a Class B drug.
His Jamaican stepfather answered the door and we asked what he thought about the imminent jail sentence. We were in for a surprise.
"He deserves it," the man said without hesitation.
"I always knew one day he was going to get himself in serious trouble and this is it.
"He doesn't want to go to college and he doesn't want to work."
So what did we learn?
The most striking thing was that there is no such thing as a typical rioter.
A homeless man in his 30s, a pair of looters who were little more than schoolgirls, a boy who at 18 was already a repeat criminal and a florist who had a moment of madness.
All were brought together by a few nights of disorder.
What did they have in common? Very little.
What do they now have in common?
A criminal record and - in all likelihood - a spell behind bars.