EDL protest in east London sees 60 arrested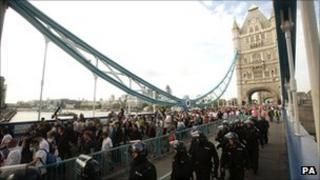 Sixty people have been arrested after English Defence League (EDL) members clashed with police in east London.
Police said 16 arrests were made during a demonstration by the group, while 44 people on a coach were held later on suspicion of violent disorder.
The protest went ahead despite a ban on marches in the area, with police estimating 1,000 EDL supporters and 1,500 counter-protesters had gathered.
Missiles were thrown by activists as 3,000 police tried to maintain control.
The supporters of the EDL, which says it is protesting against Islamic extremism in the UK, assembled near Aldgate Tube station, with the counter-protesters gathering in nearby Whitechapel Road.
'Altercation with locals'
The EDL protesters were later led to Tower Bridge by police to disperse.
The 16 arrests during the demonstration were for offences including assault on a police officer, common assault, drunk and disorderly and affray.
The later arrests came after a coach taking EDL supporters away following the protest broke down outside Stepney Green Tube station, at about 18:30 BST.
Police said there had already been one altercation with local youths after the vehicle stopped in Whitechapel Road and some passengers got off the coach.
When the coach broke down outside the station there was a further disturbance, the Metropolitan Police said, and all the passengers were arrested.
Officers from London were joined in patrolling the protests by colleagues from around the UK. Vans from forces as far away as Cumbria, Lancashire and Grampian were in action, with riot police, mounted officers and dogs also employed.
EDL founder Stephen Lennon, 28, breached his bail conditions by attending the protest in Aldgate, but was not one of those arrested.
He stood to address the crowd disguised in a wide-brimmed hat and fake beard before revealing his identity.
He said: "I'm meant to sign on at a police station on a Saturday, I'm not doing that.
"I'm not allowed to go to a demonstration, I'm not doing that.
"The credible outcome is I will be put on remand in prison for my democratic right."
'Wrong message'
Lennon was convicted in July of leading a street brawl with 100 football fans in August last year.
Home Secretary Theresa May had imposed a ban on marching in Newham, Tower Hamlets, Waltham Forest, Islington, Hackney and the City of London.
The EDL had claimed the ban on marching sent out "completely the wrong message" and insisted a static demonstration would go ahead.
The activists were supposedly prevented from chanting or waving their flags while walking as that would constitute a march.
The protest was moved however, at the behest of police, as the EDL protesters were led towards Tower Bridge by mounted and riot police. They were held on the bridge for about 40 minutes before being allowed to disperse.
Police had not requested powers to stop marches in London since the Brixton riots 30 years ago.