Scuffles break out at EDL protest in east London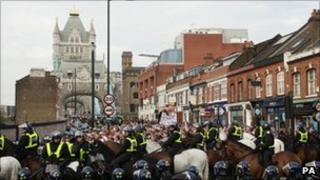 Members of the English Defence League (EDL) have clashed with police in east London at a protest which went ahead despite a ban on marches.
Scuffles broke out and missiles were thrown by activists as 3,000 officers tried to maintain control.
Police estimated 1,000 EDL supporters assembled near Aldgate Tube, with a counter protest numbering 1,500 taking place in nearby Whitechapel Road.
The EDL protesters were later led to Tower Bridge by police to disperse.
There were 16 arrests during the demonstration for offences including assault on a police officer, common assault, drunk and disorderly and affray.
Riot police, mounted police and dogs all turned out on the streets alongside police vans from forces as far away as Cumbria, Lancashire and Grampian.
EDL founder Stephen Lennon, 28, breached his bail conditions by attending the protests in Aldgate, but was not one of those arrested.
He stood to address the crowd disguised in a wide-brimmed hat and fake beard before revealing his identity.
He said: "I'm meant to sign on at a police station on a Saturday, I'm not doing that.
"I'm not allowed to go to a demonstration, I'm not doing that.
"The credible outcome is I will be put on remand in prison for my democratic right."
Lennon was convicted in July of leading a street brawl with 100 football fans in August last year.
'Rowdy atmosphere'
BBC London's Paraic O'Brien said the atmosphere was rowdy, with a lot of shouting and incendiary chants.
Allan Lahosky, who lives in Aldgate, said the streets outside his flat were "full of people" when the protest took place.
He said at the time: "There are lots of people chanting and marching but police seem to outnumber them.
"I would say for the time being it would appear peaceful but there is a lot of noise."
Home Secretary Theresa May had imposed a ban on marching in Newham, Tower Hamlets, Waltham Forest, Islington, Hackney and the City of London.
The EDL had claimed the ban on marching sent out "completely the wrong message" and insisted a static demonstration would go ahead.
The activists were supposedly prevented from chanting or waving their flags while walking as that would constitute a march.
But O'Brien said the protest was moved at the behest of police and there was chanting.
The EDL protesters were led towards Tower Bridge by mounted and riot police. They were held on the bridge for about 40 minutes before being allowed to disperse.
Police have not requested powers to stop marches in London since the Brixton riots 30 years ago.
A Met spokesman said earlier: "A robust and proportionate policing plan is in place to facilitate peaceful protest, prevent disorder and minimise disruption on the local communities.
"We are committed to taking action against anyone who engages in criminal acts.
"We continue to appeal for people to remain calm."
A spokeswoman for human rights group Liberty said: "It is an inevitable irony that brave Britons fought the predecessors of groups like the EDL so that everyone has the right peacefully to dissent.
"But this 'democratic right' does not extend to breaking your bail conditions, attacking the police and putting your neighbours in fear."