Trespasser brings commuter trains to a halt in south London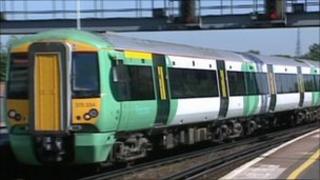 Thousands of commuters suffered long delays after a man climbed under a train and refused to move, British Transport Police said.
The incident was reported at Thornton Heath in south London at 17:40 GMT after the man climbed on to the tracks and underneath a Southern train.
The power was turned off so police could clear the track.
Southern and Gatwick Express services between Balham and Selhurst were severely disrupted, Network Rail said.
Power was restored at 20:00 GMT but disruption continued for the rest of the evening.
A transport police spokeswoman said the man went on the track outside Thornton Heath and climbed under a train.
"The train driver was able to see the man and stop the train," she said.
The spokeswoman confirmed a 22-year-old man had been removed safely and detained under the Mental Health Act.
'Train packed'
A Network Rail spokesman said tens of thousands of travellers would have been affected by the disruption.
Passengers were advised to contact National Rail Enquiries before travelling.
London Buses, London Underground, Tramlink, Southeastern, South West Trains, London Midland and First Capital Connect accepted passengers with Southern tickets.
Passenger Nayna Tarver, who was travelling to Haywards Heath on Southern trains, left Victoria about 19:20 GMT.
Her train was half an hour late leaving and then took 90 minutes to reach East Croydon, she said.
"The train is packed with no sitting room anywhere," she said. "We've been told that it's due to a 'trespass incident' but that's it, there was only one other announcement to say we were at a red light.
"People are obviously trying to get to Gatwick on here as well," she added. "The general mood is OK though - there's no extreme anger as yet."