Stripper teacher Benedict Garrett defends porn work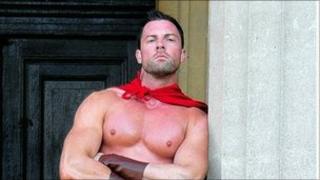 A secondary school teacher who moonlighted as a stripper and porn actor has said he does not think he did anything wrong.
Benedict Garrett, 31, who worked in east London, was found guilty of unacceptable professional conduct but left free to continue teaching.
A disciplinary hearing was told pupils at Beal High School in Ilford had seen him in a trailer for a porn film.
Mr Garrett said: "What is wrong about it? I can't see anything."
He added: "I don't think I've done anything that goes against my values and I worked incredibly hard as a teacher.
'Slightly embarrassing'
"What a teacher chooses to do in their life outside that work is up to them."
Mr Garrett was head of personal, social and health education at the school between 1 January 2008 and 16 July 2010.
On Wednesday the General Teaching Council found him guilty of unacceptable professional conduct but said he could resume his career.
The stripper, whose alias is Johnny Anglais, said he had no plans to return to teaching.
He admitted it "might be slightly embarrassing" if students had seen his porn films, but "no more than me starring as a monkey in the school musical".
He said students should not have seen his pornography work, as it was intended for over-18s, but added: "It's perfectly natural. Get over it."
He added he did not see himself as a role model, asking: "If teachers are role models, why do we tolerate teachers who smoke, when smoking is linked to thousands of deaths?"
"Do we look at teachers who are fat and say you shouldn't be teaching? Obesity is linked to thousands of deaths," he added.
"However, I've heard from students who have told me they believe I'm a role model because I'm standing up for what I believe in."
Norman Wells, from the Family Education Trust, which campaigns against pornography and supports policies which promote marriage, said: "Benedict Garrett is being naive if he imagines that performing as a stripper and appearing in porn films is compatible with teaching responsible attitudes towards sex and relationships as a teacher of personal, social and health education.
"The vast majority of parents would be uncomfortable, to say the least, to have their children taught by someone involved in the sleazy world of the sex industry."
A spokesperson for the school said: "Our judgement was that Mr Garrett's conduct was not compatible with that expected of a teacher.
"The General Teaching Council have confirmed this judgement."