Home Secretary Theresa May extends London marches ban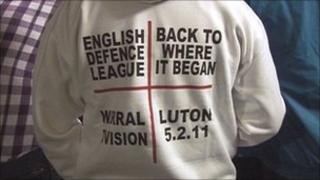 The home secretary has extended a 30-day ban against marches in the capital after a request from police chiefs.
Theresa May outlawed marches in the City of London after banning similar demonstrations in Newham, Waltham Forest, Islington and Hackney.
The decisions came amid fears of violence if a planned march by the English Defence League went ahead.
But civil rights group Liberty criticised the ban saying it was a "serious" and "grave" move.
Scotland Yard said there could be disorder if the march happened.
'Specific intelligence'
A Home Office spokesman said: "The Home Secretary has today given her consent to a ban on all marches in the City of London for a 30-day period.
"This supplements the banning order in place for Tower Hamlets and four neighbouring boroughs.
"The decision has been taken following consideration of the legal tests in the Public Order Act."
But Liberty legal director James Welch said: "The police and home secretary must realise how serious it is to ban marches in a free country.
"We are told that this grave step has been taken on the basis of specific intelligence of serious violence at a very delicate time in the capital.
"But we will watch with great care to ensure that 30 days doesn't gently slip into 90 and so on."
The English Defence League (EDL) is yet to comment on the extension of the ban, but following last week's ban on marches in Tower Hamlets, it said on its website: "Placing a ban on the EDL march gives out completely the wrong message.
"It suggests that it is the EDL, and not the extremism that we demonstrate about, which needs to be kept in check."
City of London Police Assistant Commissioner Frank Armstrong said: "This is not a decision we take lightly, but is, we believe, an appropriate response to prevent a displaced march or demonstration resulting in serious public disorder within the City of London.
"We are, as ever, working closely with the Metropolitan Police around public order events and will continue to keep the City safe."