Notting Hill Carnival stabbing: Boy among five arrested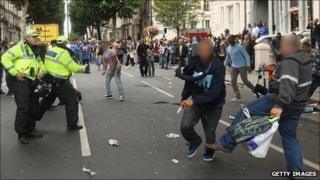 A 16-year-old boy and four men have been arrested over the stabbing of a man on the second day of the Notting Hill Carnival in west London.
The victim, who is aged 20, was injured in his abdomen and hand during the attack on Ladbroke Grove, at its junction with Oxford Gardens.
He was taken to hospital after the assault, at about 18:00 BST, and is in a serious but stable condition.
Police have also detained three men aged 20 and a 21-year-old man.
They said they were keen to speak to a man who tried to stop a suspect from leaving the scene by attempting to trip him up.
And they have asked anyone else who was in the area at the time to come forward.
The victim was one of 86 people who were taken to hospital during the two-day celebration of Caribbean culture, St John Ambulance said.
Last year 117 people needed hospital treatment.
'Admission of defeat'
The Metropolitan Police had praised organisers for a "very peaceful" carnival, despite slightly more arrests than during last year's event.
The latest total given by Scotland Yard was 245 people detained on Sunday and Monday, compared with 243 in 2010.
It said it believed the earlier finishing time, of 19:00 BST instead of 20:30 BST, had had "a positive effect" on the way the carnival had gone.
The change was requested by organisers following this month's riots in several parts of London.
Mayor Boris Johnson said it was "very important" that the carnival went ahead.
"Obviously there were quite a few people who wrote to me saying, 'For heaven's sake, scrap it.'
"But we said, 'No, that would be wrong'," he added.
"That would be an admission of defeat, if you like, after what happened earlier in the month."
More than 70 tonnes of waste was cleared by 170 cleaners and 60 vehicles over three hours on Monday night, Westminster Council said.