London businesses hit by riots can apply for £3m funds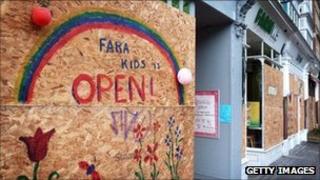 Businesses across London which were looted or damaged during the riots in the capital can begin applying for a grant from a £3m fund.
High Street Fund, which offers cash help, is specifically aimed at businesses with fewer than 10 employees, Mayor Boris Johnson said.
The grant will "speedily" provide cash and also help uninsured shops.
A coalition of businesses is contributing towards the fund with the mayor's office giving £500,000 to it.
Mr Johnson said: "This fund is basically aimed at people who run small businesses, micro-businesses with typically fewer than 10 employees, they are the backbone of the economy.
"It's a massively strong sector of our economy and we want to get these businesses back on their feet."
Requests for grants of up to £2,000 could be distributed within days to help the firms keep trading and pay salaries until other funding comes through.
Businesses which apply for help will also be able to make applications via other compensation schemes and money allocated for regeneration, including a £20m High Street Support Scheme, which will be distributed by councils.
More than 2,000 people have been arrested over rioting and looting in the capital, more than half of which have been charged.