Spurs win right to challenge 2012 stadium decision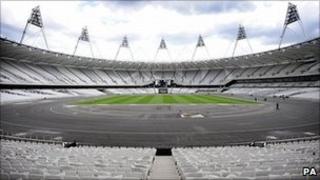 Tottenham Hotspur have won the right to challenge the decision to hand over the 2012 Olympic Stadium in Stratford, east London, to football rivals West Ham.
The Olympic Park Legacy Company (OPLC) opted for a joint bid put forward by West Ham and Newham Council.
Spurs and its partner in the case Leyton Orient made a second attempt to secure a judicial review, claiming the OPLC's decision was unfair.
High Court judge Mr Justice Collins ruled they had an "arguable" case.
A full hearing will begin on 18 October.
The OPLC's chairwoman Baroness Ford said: "We are delighted Mr Justice Collins upheld all grounds relating to the Olympic Park Legacy Company's decision-making process when recommending a preferred bidder.
"We are disappointed that permission for a judicial review has been granted on some limited points but we are confident in our case."
Mr Justice Collins said the decisions made by both the OPLC and Newham Council, which promised a £40m loan to West Ham, should be reviewed.
The West Ham bid, approved by the OPLC, will remain on hold until a decision is reached in the judicial review, he added.
Dinah Rose QC, for Tottenham, argued the £40m promise by Newham was "a critical component" of the bid and gave an unfair economic advantage to the bid through "state aid or through state resources".
Following the ruling, Leyton Orient chairman Barry Hearn said: "This is a great day for the little man.
"We haven't won the war but we have won a major battle.
"Now we will at least get the opportunity for our case to be heard. We feel we've been totally ignored in the process so far, and that can't be right."
'Negotiations with mayor'
However, Spurs are also involved in talks with London Mayor Boris Johnson to remain near White Hart Lane in Tottenham, north London.
After negotiations on Tuesday it was thought the club is close to striking a deal to build a new stadium, according to BBC London's Adrian Warner.
Spurs had been looking for government and mayoral support over their plans for a bigger ground at a site in Northumberland Park, near White Hart Lane, for several months.
Any deal with Mr Johnson is expected to involve public funding, which the mayor has already said he supports.
Earlier, the mayor said: "I think it's good news if it is true that Spurs has decided it will remain in Tottenham - an important boost to the community there and I'm pleased that we're going to be working with Spurs to see if we can sort out the regeneration issues in that area."
'Unfair state aid'
Miss Rose said: "The question of what happens to it [the stadium] when the Games are over next summer is obviously a matter of very considerable importance as well as political sensitivity.
"It is very important the stadium should be, and should be seen to be, lawfully disposed of after the games are over."
Miss Rose argued the OPLC's decision to opt for West Ham had been unfair.
In February, the OPLC, which considered a joint bid from Tottenham and the AEG sport and entertainment group and a second joint bid from West Ham and the London Borough of Newham, declared the package from West Ham as its "preferred bid".
Miss Rose said Tottenham was "excluded" when the government and the mayor supported that decision.
In the bid, Newham Council promised a £40m loan to West Ham, which Miss Rose said amounted to "state aid".
She added that no bank would have given such a loan to a club in a "precarious financial state".
Citing these arguments, Miss Rose said it was "unlawful" for the OPLC to choose West Ham and Newham Council's bid.
Miss Rose said Spurs wanted a judicial review of Newham Council's decision, the OPLC's decision to opt for West Ham and the decisions of Boris Johnson and the government to back the OPLC.
A High Court judge turned down Tottenham and Orient's first appeal for a judicial review in June.
If the club drop this second judicial review bid, West Ham are expected to be able to go ahead with their plans to move into the £486m Olympic Stadium, by 2014.
Under West Ham's plan, it is understood London's hopes of staging the 2017 World Athletics Championships would be boosted.
West Ham said they looked forward to the judicial review "and a successful conclusion whereby we can deliver the multi-sport legacy that Lord Coe envisaged for east London and the rest of the nation".