Notting Hill Carnival police numbers increased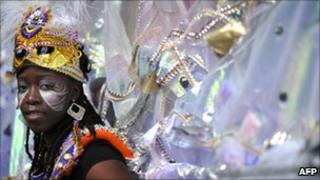 The number of police officers on patrol during the Notting Hill Carnival has been increased following a review.
A total of 5,500 officers will patrol the area on Sunday, while 6,500 will take to the streets on Monday.
This increase on the 2009 and 2010 levels follows a review of the police's operation for the carnival in the wake of this month's riots.
There will also be more than 4,000 officers elsewhere in London in addition to those normally on duty.
About one million people are due to visit the carnival over the two days.
More than 35 arrests have been made in pre-emptive police strikes to avoid the carnival weekends seeing a repeat of recent rioting.
Scotland Yard Commander Steve Rodhouse vowed to deal robustly with troublemakers as he said intelligence suggested a small minority were planning trouble.
The police chief said he was "really confident" he had the resources at his disposal to protect the event on Sunday and Monday.
"We realise that carnival will be taking place this year in unusual and exceptional circumstances," Mr Rodhouse told reporters.
"Our intelligence picture is still being developed as we approach the weekend and it will be kept under review right up to and indeed during the carnival itself."