Kate Winslet offered London Fire Brigade training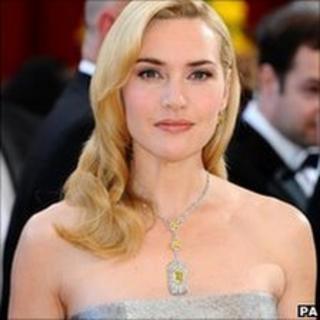 Actress Kate Winslet has been offered the chance to train with firefighters after she rescued Sir Richard Branson's mother when a fire broke out.
Winslet, 35, was among those staying at Sir Richard 's luxury Caribbean home when lightning hit the house.
London Fire Brigade (LFB) invited Winslet to visit its training centre to learn how crews deal with fires.
LFB deputy assistant commissioner Dany Cotton said: "Kate has shown true bravery. We would love her to visit."
She said she hoped her actions would encourage more women to think about becoming firefighters.
Winslet is yet to respond to the invitation.
'Completely destroyed'
Twenty people escaped unhurt from the fire on Necker Island in the British Virgin Islands on Monday when lightning hit the house.
Sir Richard said: "Many thanks to Kate Winslet for helping to carry my 90-year-old mum out of the main house to safety."
The Virgin Group boss, who was staying at a nearby property, said the fire had "completely destroyed" the building.
Winslet, who won an Oscar for her role in the 2008 movie The Reader, was staying at the house with her daughter Mia, 10, and her son Joe, seven.