Learco Chindamo: Head teacher killer cleared of robbery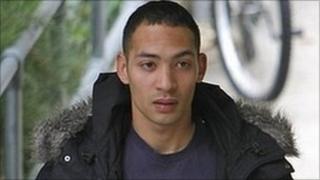 The man who killed head teacher Philip Lawrence has been cleared of robbing a man at a cash machine in north London.
Learco Chindamo, 31, had been accused of using his notoriety to intimidate and rob David Sexton in Camden.
Chindamo was released from prison four months before the confrontation outside a Sainsbury's store in November, Blackfriars Crown Court was told.
Chindamo was convicted of murdering Mr Lawrence outside St George's School in Maida Vale, north west London, in 1995.
Gregory Jananto, of Shepherd's Bush, west London, and Saeed Akhtar, of Camden, north London, both 32, were also found not guilty of robbery.
'Disrespecting him'
Prosecutors claimed Chindamo, of Catford, south London, had bragged about his murder conviction to intimidate Mr Sexton into handing over money.
They said he had asked Mr Sexton, "Do you remember about the head teacher in Maida Vale?", as he ordered him to hand over his money.
But the defence said Mr Sexton had branded Chindamo a killer, taunting him and his two friends.
Mr Sexton, 20, had been on a night out with colleagues which took him and his friends to Camden at about 03:30 GMT.
He told the court he had planned to withdraw a large amount of money from the cash machine but became wary and only took out £20 when he noticed Chindamo and two other men.
Prosecutor Alison Morgan told the court: "Mr Chindamo came towards Mr Sexton saying words to the effect of, 'Do you know who I am?' and 'Do you remember about the head teacher in Maida Vale?'
Freed in 2010
Mr Sexton told the court he did not initially recognise Chindamo but knew about Mr Lawrence's murder as it had happened near his home.
Giving evidence, Mr Sexton said: "He demanded compensation for disrespecting him."
Defence lawyers claimed Mr Sexton had in fact handed over £10 as a peace offering following the row so Chindamo could buy a drink.
In police interviews, Chindamo denied threatening the man, using unlawful violence against him or demanding money from him.
Mr Jananto told officers Chindamo wanted to put his past behind him and never reacted when he was recognised and insulted.
In 1996 Chindamo was ordered to serve at least 12 years in jail for fatally stabbing Mr Lawrence, 48, outside the gates of the school.
He was freed in July 2010.
Chindamo will remain in custody while his case is reviewed.