London 2012: Cycle track in Lee Valley VeloPark after Olympics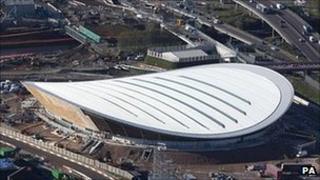 A one-mile (1.6km) cycle track planned for east London after the Olympics will be re-routed to allow more open space and parkland, organisers have said.
The circuit will be part of the Lee Valley VeloPark, which is located north of the Queen Elizabeth Olympic Park and houses the velodrome used at the Games.
The "world-class" route will cross the River Lee and parkland, the Olympic Park Legacy Company (OPLC) said.
It will be next to mountain bike trails and a BMX track, the company added.
The OLPC had looked to alter the original plans but, after Sport England, British Cycling and Lee Valley Regional Park Authority objected in April that the legacy could be affected, a final route was agreed upon.
The route will also link up with other cycle routes across London.
The "exemplary" new park will be aimed at local residents and families in particular, the OPLC added.
The velodrome will remain after the Olympics and will be able to stage events for up to 6,000 spectators.