London riots: More than 1,000 people charged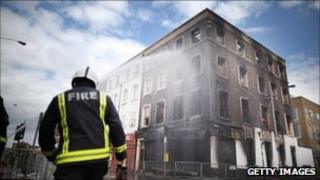 More than 1,000 people have been charged over the rioting in London, the Metropolitan Police has said.
Acting commissioner for the force Tim Godwin hailed a "significant milestone" as he said a total of 1,010 suspects had been charged after 1,744 arrests.
Praising the work of officers gathering evidence to bring the charges, he said the public response to appeals over the riots last week had been fantastic.
The force said it was aiming for 3,000 convictions over the disorder.
London Mayor Boris Johnson said the latest police figures were "testament not only to their [the Met's] dedication, but also to the outstanding support they have had from law-abiding Londoners who will not tolerate this behaviour in their communities."
Youth ambassador
Chelsea Ives, of Leytonstone, east London, is among those who has appeared in court charged in connection with the disorder.
Miss Ives, 18, denies two counts of burglary, violent disorder and attacking a police car in Enfield, north London, on 7 August.
She was remanded in custody until a hearing at Highbury Magistrates' Court on 7 September.
A spokesman for the London mayor said the teenager was not a 2012 Olympics ambassador, as has been reported.
It is understood she was appointed a youth ambassador by Waltham Forest council in the 2008/09 academic year.
The council's leader Chris Robbins said: "Chelsea Ives did represent her school as an Olympic Youth Ambassador, and by all accounts was a very talented athlete."
Riot footage
A 25-year-old man accused of handling £40,000 worth of electrical goods looted during rioting in Tottenham has also appeared before Highbury magistrates for a second time.
Julian Revere Warner was remanded in custody until 7 September, when he is due to appear at the same court for a hearing.
Under Operation Withern, 500 police officers have gathered 20,000 hours of CCTV footage.
Forensic officers have made more than 300 submissions to labs from more than 1,100 crime scenes, the Met said.
A 12-year-old boy, who was arrested on Sunday on suspicion of theft from Blue Inc in Rye Lane, Peckham, has been released on bail until 5 September.