London 2012: Qatari Diar venture to take over Olympic Village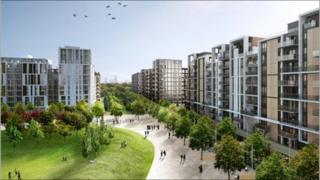 The London 2012 Olympic Village will be taken over by a partnership including the Qatari Royal Family's company.
Qatari Diar and British developer Delancey have signed a £557m deal to buy and manage the athletes' village as private housing after the games.
The deal includes a profit-share agreement, recouping the government some of the £9.3bn of public money the Olympics have cost.
Culture secretary Jeremy Hunt said the deal gives taxpayers "a great return".
Mr Hunt added: "The village will be the centrepiece of a new vibrant east London community."
The two companies will take over 1,439 of the 2,818 homes on the site and build as many as 2,000 more.
They will rent out the homes, which will form part of a portfolio of London property that includes Harrods.
A company called Triathlon Homes has already been appointed to manage the other 1,379 homes in the village.
They will be kept as affordable housing for key workers including teachers and health professionals.
The new neighbourhood will also include education and health care facilities, parklands, public squares and open space.