Council eviction notice for Clapham Junction riot accused's family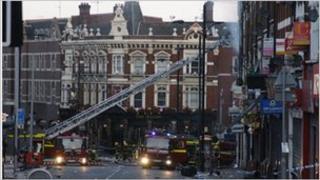 A London council is trying to evict a tenant whose son has appeared in court charged in connection with rioting and looting at Clapham Junction.
Wandsworth Council is serving the tenant with an eviction notice - the first stage in the eviction process.
The tenant is believed to be the first in England to face losing their council-owned home as a result of this week's disturbances.
Neither the tenant nor their son can be named at this stage for legal reasons.
A spokesman for Wandsworth Council said it wanted to "get the ball rolling" rather than wait to see if the tenant would be convicted.
"We are starting the proceedings early. If he is acquitted we will end our eviction proceedings," he said.
The notice gives warning that the council will be seeking possession of the property and that an application will be made to the courts seeking the tenant's eviction.
The final decision rests with a judge sitting at the county court.
The council said that it is able to start eviction proceedings against a tenant for breaching their tenancy agreement.
Under the terms of the agreement, which applies to all the council's rented accommodation, all tenants, their household members and visitors are forbidden from a range of criminal and anti-social activities.
Breaches of the agreement render them liable to eviction.
Council leader Ravi Govindia welcomed the swift action by the housing department.
She said: "This council will do its utmost to ensure that those who are responsible pay a proper price for their conduct. Ultimately this could lead to eviction from their homes.
"Our officers will continue to work with the courts to establish the identities of other council tenants or members of their households as more cases are processed in the coming days and weeks."
Several local authorities have said they will seek to evict social tenants who are convicted of being involved in rioting across English cities.
In London, they include Westminster, Southwark, Greenwich and Hammersmith and Fulham .