Mark Duggan death: IPCC appeals for witnesses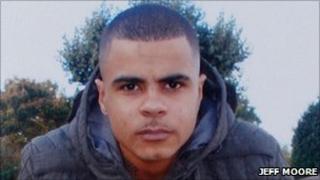 The police watchdog has appealed for witnesses to the fatal shooting of Mark Duggan by officers in Tottenham, north London.
Mr Duggan, 29, was shot by police officers a week ago in Ferry Lane, as officers attempted to make an arrest.
Post-mortem tests found he died from a single bullet wound to the chest.
Officials from the Independent Police Complaints Commission are in Tottenham talking to people to gather more information.
Violence began in Tottenham on Saturday after the fatal shooting by police of Mark Duggan.
The riots then spread to other parts of London and other cities in England.
Further tests
Investigations by the Independent Police Complaints Commission (IPCC) show two shots were fired by a Scotland Yard CO19 firearms officer.
But the police watchdog said there was no evidence Mr Duggan had fired at police.
The IPCC said ballistic tests showed "no evidence that the handgun found at the scene was fired".
Further tests are being conducted on the illegal firearm, which was converted from a blank-firing pistol to one that shoots live rounds, the IPCC said.
A spokeswoman for the Duggan family said one of the options being considered was to request a second post-mortem examination.
Witness boards
In order to try and speak to as many witnesses as possible, IPCC investigators will be stopping and talking to commuters, handing out information leaflets and putting up witness boards and posters.
IPCC Commissioner Rachel Cerfontyne said: "It is one week since Mark Duggan died on Ferry Lane.
"It is a busy road and there is a busy Tube and train station just minutes away.
"I want to appeal directly to anyone who saw or heard anything that may assist us with our investigation - or if you know anyone who has any information and has yet to come forward and speak to us, please urge them to do so."
The inquest into Mr Duggan's death was opened at North London Coroner's Court in High Barnet on 9 August and adjourned until 12 December.