PC speaks out about taking on mob at Catford retail park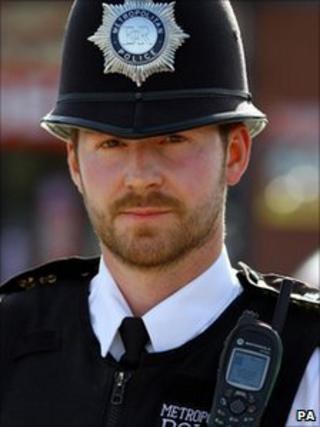 A police officer has described how he and five colleagues, armed only with two shields, defended a retail park from a gang of up to 50 hooded youths.
PC Gordon Murphy, 30, said despite their lack of numbers, officers charged at the mob who were trying to loot the stores in Catford, south-east London.
He said: "We decided, as they ran at us, to rush back at them, with only six officers running back at 40.
"The mad thing is, they all ran back so we didn't even have to make contact."
The officer said sporadic disorder had spread throughout the borough and others officers had been deployed elsewhere.
The small group protected the area on their own for about half an hour before backup came and the group was dispersed on Monday night.
Mr Murphy, who is based at Catford police station, said the youths had waited until dark before attacking the officers.
He said: "As darkness fell, the young people started attacking - they were throwing bricks and bottles at us.
"There were two of us with small shields to protect other police officers and the property.
"Once they had thrown missiles at us they then rushed directly towards us, shouting and screaming," said the father-of-one, who lives in Catford.
"We just showed a show of strength, with our shields and our batons drawn, shouting as loud as we could: 'get back' and a few other war cries and the kids ran back across the road and continued throwing things at us."
He added: "Some officers have cuts to their arms, bruises to the legs, but there are other officers who have much worse injuries than us."
Mr Murphy is believed to be the first front-line officer with the Metropolitan Police to speak about his experiences tackling the disorder of the past few days.