Demolition of House of Reeves store after Croydon riot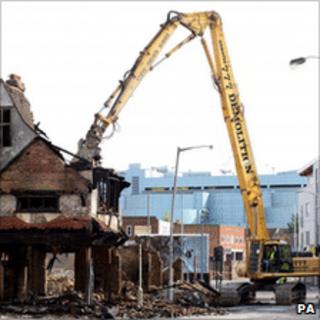 Demolition has begun on a 150-year-old furniture store in south London that was gutted in riots on Monday night.
The Reeves family, who owned House of Reeves Furniture, hired a demolition crew so the remains of their ruined furniture store could be cleared.
Cars and buildings were set alight in Croydon on Monday, when rioting took place in many parts of the capital.
On Wednesday a man, 21, was arrested on suspicion of starting the fire that burned down the furniture store.
Croydon council said 28 people who had been made homeless by damage caused by rioters had asked for assistance.
Meanwhile, a crane has been set up to start demolition of shops and homes on the London Road.
Tory council leader Mike Fisher said: "It has been heartening to see so many people step forward to volunteer their time for Croydon.
"It shows the extraordinary community spirit that we have here and also how the law-abiding heavily outnumber the moronic lawbreakers that have shamed Croydon and elsewhere."
Transport for London trams manager Phil Hewitt said: "Following the demolition of a damaged building, London Tramlink has restored services to the Reeves Corner tram stop on the network which will make access to the town centre much easier for our passengers."