England riots: Police release first CCTV suspect images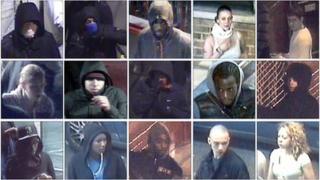 Scotland Yard has released what it says will be the "first of many" CCTV images of suspects in the investigation into rioting across London over recent days.
Police say the pictures are taken from looting in Croydon and Norwood Road, south London, overnight on Monday.
The Metropolitan Police's Commander Simon Foy warned that photographic evidence would be used to bring those involved in criminal acts to justice.
Scotland Yard will have 16,000 officers available in London on Tuesday night.
The Met has launched Operation Withern to investigate "serious disorder and violence that has been affecting parts of London".
'Should be warned'
Commander Foy said: "Operation Withern is continuing apace. As well as the many arrests and charges the team is working hard to identify suspects.
"Those who have or intend to go out and commit violent, criminal acts should be warned. We will have photographs and evidence that we will use to identify you and bring you to justice.
"Today we are releasing the first of many, many images of people we will be speaking to in connection with the scenes of violence.
"We will not tolerate the violence that has been seen in parts of London."
The photos will be hosted on Flickr to allow the public to help police identify those involved.
The Met's Major Investigation Team has started securing crime scenes, retrieving forensics and going through thousands of hours of CCTV footage.
Speaking after leaving a meeting of the government's Cobra emergency committee, the Met Police's Acting Commissioner Tim Godwin said: "We will be out in ever greater numbers tonight and we will continue that for as long as is necessary.
"But more importantly, and most importantly, we have your images, we are asking Londoners to identify people that were engaged in criminality last night and we will be coming to arrest you over the coming days - if necessary, weeks and months.
Plastic bullets
The Met said it has 16,000 officers available for response from midday on Monday until Tuesday morning, including Community Support Officers, for patrol, response and riot squad operations.
There would be fewer than 3,000 on a normal Tuesday night.
Scotland Yard said baton rounds (plastic bullets) - never used before in disturbances on the British mainland - would be made available, as they have been for past three nights.
All Metropolitan Police leave has been cancelled and reinforcements have been called in from other areas.
Nine other forces are supporting the Metropolitan Police, as well as the City of London Police and British Transport Police.
The Met said 525 arrests had been made so far and 99 people had been charged.
The Ministry of Justice said rioters who are arrested will appear in court "within hours" under fast-track procedures.
It is understood the police will have to submit only a charge sheet for a case to be referred to court.
The Met's Major Investigation Team can be contacted on 020 8345 4142 or people can call Crimestoppers on 0800 555 111.