Former Tower of London governor loses sacking claim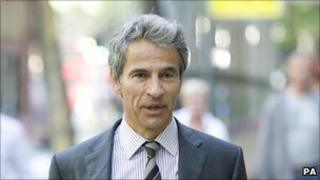 The former governor of the Tower of London has lost his claim for unfair dismissal.
Maj Gen Keith Cima had argued at the central London employment tribunal that he should not have been sacked for allegedly making derogatory comments about Beefeaters.
It is alleged he had called Beefeaters the "lowest of the low" and "thick".
Gen Cima was dismissed by Historic Royal Palaces (HRP), who manage the Tower of London, in December 2010.
His dismissal follows an apology and payout by HRP to Yeoman warder Mark Sanders-Crook, who had been sacked for allegedly bullying the first female Beefeater Moira Cameron.
Gen Cima, who spent more than 30 years in the army, was accused of saying that HRP had "prostituted itself" for the payout to Mr Sanders-Crook.
The former soldier said he had wanted to defend Ms Cameron against Mr Sanders-Crook's alleged bullying.
In a witness statement to the tribunal, Gen Cima said that he had been sacked for not fully co-operating with HRP over the Mr Sanders-Crook apology and settlement.
He also claimed that eye problems meant that he was unable to concentrate on his job, but the employment judge said he had not mentioned this during the internal disciplinary process.
Employment judge Harjit Grewal said Gen Cima had made "inappropriate, offensive and damaging remarks about HRP as an organisation" and he had "failed to accept that he had done anything wrong or that he needed to change."
A HRP spokesman said: "We are pleased the employment tribunal hearing has concluded that Gen Cima was fairly dismissed and that HRP was justified in taking the action that it did."
The spokesman also said HRP did not "tolerate bullying or harassment on any level of any members of staff."