Third night of rioting in London as 6,000 officers on duty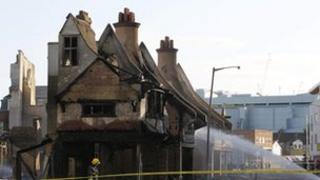 Rioting and looting continued for the third night in London leaving behind burnt-out cars and buildings.
Deputy mayor Kit Malthouse said 6,000 officers were on duty and 450 people were arrested. He said 44 officers were injured, four seriously.
Disorder was reported from Croydon, Clapham, Hackney, Camden, Lewisham, Peckham, Newham, East Ham, Enfield, Woolwich, Ealing and Colliers Wood.
The Met said Monday was "the worst" disorder in "current memory".
The MPS responded with the largest policing operation of the three nights to date.
A statement from the force said: "Last night was the worst the MPS (Metropolitan Police Service) has seen in current memory for unacceptable levels of widespread looting, fires and disorder.
"A significant number of arrests were made, well over 200 overnight - in excess of 450 over the three nights, leading to all MPS cells being full and prisoners being taken to surrounding forces.
"Over the last 24-hour period we have taken almost 400% more 999 calls than normal (5,400 emergency 999 calls normally compared to almost 20,800)."
London Fire Brigade said fires had spread "almost pan-London" and it faced its "busiest night in recent history".
Its 999 control centre answered 2,169 calls between 18:00 BST on Monday and 07:19 BST on Tuesday.
London Ambulance Service said it took 22 people to hospital and many others were treated at the scene.
Director of operations Richard Webber said "missiles were thrown at our vehicles and crews were threatened and intimidated while trying to care for people".
Birmingham, Liverpool, Nottingham, Bristol and the Medway towns also saw violence.
'Terrible night'
Mr Malthouse said the Met was looking to bolster its numbers from neighbouring forces and currently had a mobile unit of 1,700 officers.
Three people were arrested in the early hours of Tuesday on suspicion of attempted murder after a police officer was injured by a car in Brent, north west London, while trying to stop suspected looters.
In total 69 people have been charged and two people have been cautioned over the riots.
The prime minister is chairing the government's emergency meeting of Cobra while the Mayor of London Boris Johnson is expected to return from his holiday later.
Mr Malthouse said: "I don't think we can pretend anything other than it was an overwhelming evening, and that the police were incredibly stretched.
"We had 44 who have reported injured this morning, four seriously.
"It looks like we're going to have an allegation of attempted murder on one particular police officer so it was a very serious night and a very stretching night and I have to say I feel for all those people who have woken up this morning to see the charred remains of their businesses, perhaps their homes and who've suffered in London.
"It's really been a terrible night."
The Met's Deputy Assistant Commissioner Stephen Kavanagh said leave and training of all police officers had been cancelled and there would be an "unprecedented" number of officers on duty tonight.
He said it was "a shocking and appalling morning for London to wake up to" and he was struck by the "sheer scale and speed with which the attacks took place across London" overnight.
There has been a "change" in the make-up of the rioters with "older groups in cars doing organised looting" rather than 14 to 17 year olds, he added.
More armoured vehicles, known as Jankels, which were used for the first time in Ealing and Clapham since riots broke out on Saturday, will be on the roads.
'Fires pan-London'
Home Secretary Theresa May said police were able to cope with the disturbance.
"What robust policing means is doing what we saw them doing overnight, which is dealing with the disorder on the streets, but then following that through - looking at the CCTV footage."
Deputy Assistant Commissioner Bernie Higgins, from London Fire Brigade, said: "We've dealt with a number of serious fires, simultaneously throughout the night across London.
"So it's not been contained to one part, it's been spread almost pan-London, which has obviously given us a challenge in terms of managing our resources."
Travel disruption
In Barking, Ripple Road was closed at King Edward's Road, Movers Lane was closed northbound from the A13 towards Ripple Road and Station Parade was closed at Wakering Road near Barking Tube station.
Ealing Broadway is closed but Ealing Broadway station is open and First great Western has resumed its services.
In West Croydon, London Road remains closed between Sumner Road and North End on approach to West Croydon station.
Duppas Hill Road is closed at Warrington Road and there is no Tramlink between East Croydon and Wandle Park.
Peckham Rye Lane was closed between Peckham High St and Copeland Road.
In Queensway, Inverness Terrace was closed between Bayswater Road and Inverness Place.
Tottenham High Road and Bruce Grove remains closed between Monument Way and the Roundway Lordship Lane. Several bus routes are diverted.
In Enfield, Church Street is closed between Chase Side and Willow Road and there is no access to Silver Street from London Road.
Clean up call
On Monday rioting and looting spread across Hackney, Peckham, Croydon, Ealing and to parts of east and north London.
Up to 300 people targeted businesses in Mare Street and missiles were hurled at officers. In Peckham, about 500 rioters went on a rampage.
In Croydon, several cars and buildings were set alight, including a 150 year-old furniture store which was completely gutted. A 26-year-old is in a serious condition after being shot.
A Sony warehouse in Solar way, Enfield, was set on fire and shops and cars were smashed and set alight in Ealing.
A Twitter group - riot cleanup - has been set up urging local residents to help clean up their local businesses and areas which were ravaged by rioters.
Dan Thomson, who set up the group, said people had begun to clear away debris in Peckham, Hackney, Westbourne Grove and groups were gathering "with dust pans" in Camden and Chalk farm.
The trouble followed two nights of violence over the weekend which started after police shot a man dead in Tottenham.
A peaceful protest in Tottenham on Saturday over the fatal shooting by police of Mark Duggan, 29, was followed by violence which spread into Sunday.