Croydon remembers Lanfranc Boys after 1961 Norway air crash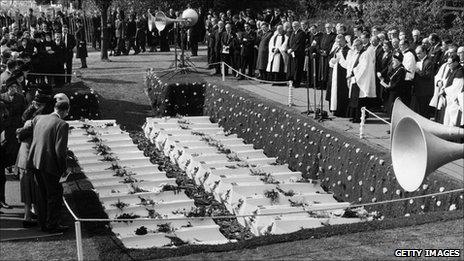 When Nigel Green was six he remembers waking up one morning and hearing "a terrible wailing noise downstairs."
It was his father, beside himself with grief on hearing his 13-year-old son Quentin was missing in a suspected plane crash in Norway.
It was the start of a nightmare for the Greens and 33 other families who had sons at Lanfranc Secondary Modern School in Croydon.
Fears their Viking airliner had gone down as it approached Sola Airport, near Stavanger, on 9 August 1961 were confirmed.
Along with 34 pupils, two teachers, John Beacham and George Budd, also perished along with three aircrew.
For Quentin himself, the fact he was on the trip at all had been down to a toss of a coin by the headmaster.
And many of the group, hoping to enjoy a camping holiday in the Norwegian highlands, had never flown before.
To mark the 50th anniversary of the tragedy memorial services are being held in Norway and at Croydon Cemetery, later.
Mr Green, who will attend the service in Norway, said: "It was a tremendous sense of loss. Being only six, Quentin my brother was 13, so he was the next one up in the family in terms of the pecking order.
"Suddenly, I lost my best friend but at the age of six to comprehend that was very difficult. One minute he was there, the next he was gone.
"The realisation didn't dawn on me for several months and probably not until we all went to Norway the year after.
"In between time my father died in the January (1962) of a heart attack. He blamed himself for letting Quentin go."
Mr Green said Quentin had initially been told by their father he could not go on the trip because they could not put him on the plane.
Undeterred, Quentin got himself a paper round to earn the cash required.
Nigel said: "Then one of the boys who was originally going to go decided not to and pulled out.
"There were two boys who wanted to go - Quentin and another boy. The headmaster decided to toss a coin. Quentin called correctly and he went and the other boy didn't...."
Quentin's elder sister Rosalind Jones (nee Green), was 15 when her younger brother died and it was left to her to break the terrible news to her family.
"My parents were in the garden when the news came through," she said.
"My two elder brothers were speechless with misery and [Nigel] didn't really understand.
"My parents came in from the garden and I said the news had come through, they had found the plane and there were no survivors. That was awful. I couldn't believe it could happen to ordinary people like us."
To coincide with the anniversary of the tragedy Mrs Jones has written a book - The Lanfranc Boys - which captures the memories of many of the families affected.
"I imagined a simple book of memories and photographs but the response was so phenomenal with so many personal stories, the book really took off," she said.
"It was very painful to relive their experiences with them."
Related Internet Links
The BBC is not responsible for the content of external sites.