Tottenham police shooting: Dead man was minicab passenger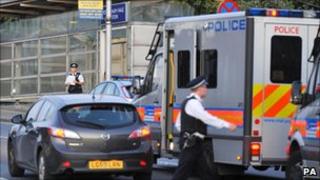 A man shot dead by police in north London was a passenger in a minicab stopped during a planned operation, the police watchdog has said.
Officers stopped the car in Ferry Lane, Tottenham, on Thursday to carry out an arrest when the 29-year-old man, named locally as Mark Duggan, was shot.
Three shots were fired. A bullet was found lodged in a police radio.
A police officer was also injured in the incident, the Independent Police Complaints Commission (IPCC) said.
The injured officer has since been discharged from hospital.
The incident took place in Tottenham Hale at about 18:15 BST and Mr Duggan died at the scene.
Two shots were fired by an officer and it is believed that one shot was discharged from an illegal firearm inside the car.
The IPCC said the dead man had lived in the local area and his family had been informed.
Friends of the dead man told BBC London that Mr Duggan, who was also known as Starrish Mark, had become "increasingly paranoid" after his cousin Kelvin Easton was stabbed to death inside La Boheme nightclub in Mile End on 27 March.
'Not a troublemaker'
No-one has been charged over that death, but four people had been arrested. Three of them were bailed by police pending enquires while no further action will be taken against the fourth person, a Metropolitan Police spokesman said.
Local resident Jay Crowned, 39, said he knew Mr Duggan. "He's not a troublemaker but he's been down since his friend was stabbed in Mile End.
"His friend was like a brother and he lost him brutally. Since then he's been really down.
"He's never had trouble with the police before."
Another resident David Akinsanya, who was at the scene of the fatal shooting soon after the incident, said a witness told him that a police officer had shouted to the man to stop "a couple of times", but the man had not heeded the warning.
The witness, who lives next to the spot where it happened, then heard four shots, Mr Akinsanya said.
'Distressing and disturbing'
The IPCC said the exact sequence of events was still being investigated.
In a statement it said: "At around 6.15 officers from Trident, accompanied by officers from the Specialist Firearms Command (CO19), stopped a minicab in Ferry Lane, Tottenham to carry out an arrest.
"Shots were fired and a 29-year-old man, who was a passenger in the cab, died at the scene.
"The attempted arrest was part of a pre-planned operation under Trident.
"It is believed that two shots were fired by a firearms officer, equipped with a Heckler and Koch MP5 carbine.
"A non-police issue handgun was recovered at the scene. An officer's radio which appears to have a bullet lodged in it has also been recovered."
The police radio and the handgun have been sent for forensic tests and officers are studying footage from CCTV cameras in the area.
'Distressing and disturbing'
A post-mortem examination is due to be held later.
IPCC commissioner Rachel Cerfontyne said: "Fatal shootings by the police are extremely rare and understandably raise significant community concerns.
"I will make certain that this investigation is thorough and answers the many questions that everyone has when such an incident occurs."
Appealing for witnesses to the shooting, she added: "I fully recognise how distressing and disturbing this must be for the family and the local community."
David Lammy, Labour MP for Tottenham, said he was "shocked and deeply worried" about the incident.
"I think there's quite a lot of anxiety now in the community, but we should try to stay calm and not rush to judgement," he said.