Jason Owen freed after Baby P prison sentence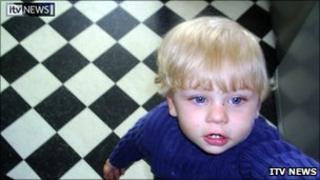 One of the three people jailed over the death of abused toddler Baby Peter Connelly in north London has been released from prison.
Jason Owen, 39, was serving a six-year sentence for causing or allowing the death of the 17-month-old in 2007.
He was released under licence from Wandsworth Prison in south London, two days after the fourth anniversary of Baby Peter's death.
His release came at the halfway point of his jail term.
Owen, from Bromley, Kent, was a lodger at the home of his brother Steven Barker in Tottenham where Peter died on 3 August, 2007.
In May 2009, an Old Bailey judge gave Owen an indeterminate sentence of imprisonment for public protection with a minimum term of three years for his part in the toddler's death.
This meant he could apply for parole after three years but would only be released once the Parole Board was satisfied he no longer posed a risk to the public.
But Owen challenged his sentence at the Court of Appeal and in October 2009 was ordered to serve a fixed six-year jail term instead.
Peter suffered more than 50 injuries despite being on the at-risk register of Haringey Council.
He received 60 visits from social workers, police and health professionals during the final eight months of his life.
A series of reviews identified opportunities when officials could have saved him if they had acted properly on the warning signs.
The Ministry of Justice said it would not discuss individual offenders, but added those released on licence were subject to strict conditions and controls.
It said that if they failed to comply with their licence conditions, they would be returned to custody.