Daniel Morgan axe murder family public inquiry call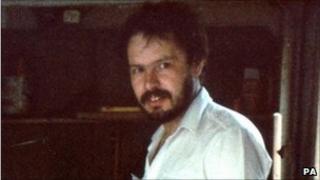 The family of private investigator Daniel Morgan who was murdered in 1987 say his case is "crying out" for a judicial inquiry.
Mr Morgan, 37, was found with an axe in his head in a London pub car park but nobody has been convicted of his death.
Scotland Yard this year apologised to the family for a corrupt investigation into the killing.
The Morgan family have called for "proper public scrutiny". The Home Office has been asked to comment.
Five people were arrested in 2008 but two, including a former detective accused of perverting the course of justice, were discharged after a string of supergrasses were discredited.
The Crown Prosecution Service has since dropped the case against the remaining three people.
The cost of the five police inquiries and subsequent legal hearings was estimated at about £30m.
Lawyers acting for the family have sent the Home Secretary a submission setting out the grounds for a judicial inquiry into the case.
Mr Morgan's brother Alastair urged Home Secretary Teresa May to have the courage "signally lacking in her predecessors" to hold a public hearing "into this sorry state of affairs".
He said the continuing revelations involving the News of the World and relationships with police gave the issue a "real significance".
He said: "For almost a quarter of a century, my family has done everything possible to secure justice for Daniel and to expose police corruption.
"For much of this time, we have encountered stubborn obstruction and worse at the highest levels of the Metropolitan Police.
'Failures'
"We have found an impotent police complaints system and met with inertia or worse on the part of successive governments. We have been failed utterly by all of the institutions designed to protect us.
"We have seen for ourselves a criminal justice system which has proved incapable of coming to terms with the murder or the subsequent criminality of those charged with enforcing the law."
Mr Morgan said the family recognised that those behind the most recent prosecution had done their utmost to "redress the catastrophic failures of earlier investigations".
After the collapse of the case in March, Mr Morgan said he believed there had been a number of police cover-ups over the years and alleged his brother was murdered because he was about to expose police corruption.
Case dropped
"It was obvious my brother was going to blow the lid off the links between the police and criminals," he added.
The case was dropped, before a jury was sworn in, against Daniel Morgan's former business partner Jonathan Rees, 56, and brothers Garry and Glenn Vian, 50 and 52.
The CPS said it was no longer satisfied that there was sufficient evidence for a realistic prospect of conviction.