London 2012: Olympic Village sale talks near completion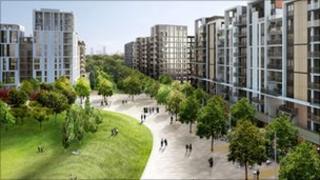 The government is in exclusive talks with a consortium over the sale of the Athletes' Village in east London.
Delancey & Qatari Diar wants to buy, and manage, 1,400 homes and six development plots after the 2012 Games.
On Thursday the government ruled out a wholesale deal for the Village and assets on the Olympic Park.
The Olympic Delivery Authority said: "Commercial discussions on the Olympic Village are in the final stages and an announcement will be made shortly."
Of the 2,800 homes built on the Olympic Village site, half have been sold to provide affordable housing after the 2012 Olympics.
In April three organisations, Delancey & Qatari Diar, Hutchison Whampoa Limited and Wellcome Trust, were shortlisted to submit best and final offers for the remaining homes in the Village and six development plots.
A Department for Culture, Media and Sport spokesman confirmed they were now in talks, exclusively, with one consortium.
He said: "Ministers and the mayor have agreed that Olympic Delivery Authority (ODA) should conclude the sale of the Olympic Village.
"This rules out holding a new competition for a wholesale deal for the Village and the OPLC Olympic Park assets together."
Once the Games are over in September 2012 the Village will be transformed into a new neighbourhood.
It will offer high-quality new homes, many of them affordable, as well as education and healthcare facilities, new parklands and public squares.