Reality TV star Mark Wright 'saw red over pub threats'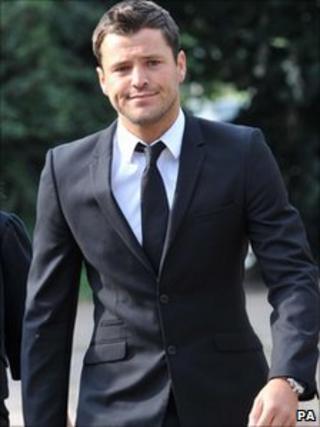 A star of TV reality show The Only Way Is Essex "saw red" when he heard a man threatening to throw a brick through the window of his bar, a court heard.
Mark Wright told jurors he was "reduced to tears" after earlier arson attacks at Deuces Bar and Lounge, in Chigwell, which he had put all his savings into.
The court heard he told police he wanted to know why Tom Grantham had made the comments on 3 January.
Mr Wright denies using threatening behaviour towards Mr Grantham.
Prosecutor Alex Matic said Mr Wight had been standing on the door of the bar to stop uninvited people gaining entry.
He had been told Mr Grantham had been "bad-mouthing" his friend Jack Tweed and denied him access to the bar, said Mr Matic.
'Really aggressive'
As Mr Grantham walked away Mr Wright heard him say that he would come back and throw a brick through the window, the court heard.
"We can see from the CCTV that Mark Wright was making a beeline for Tom Grantham," said Mr Matic.
"We will see from CCTV that he swings four punches at him.
"You will see on CCTV having realised the error of his ways he then tries to assist when it is clear that the claimant is in a bad way physically."
Giving evidence Mr Wright said of Mr Grantham: "He said something really aggressive. He said: 'I will knock you spark out'.
"I felt he was going to attack me. His hands were up and coming towards me. I wanted to protect myself."
When interviewed by police Mr Wright told officers he could not remember whether punches were thrown or what was going through his mind but could remember a "tussle".
He also said that this sort of behaviour was "not in his nature".
Earlier Tweed, the widower of reality TV star Jade Goody, and his brother Lewis, admitted common assault in relation to an attack on Mr Grantham the same night.