Tony Parsons to be Heathrow's writer-in-residence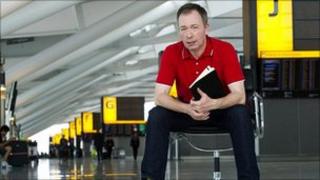 Tony Parsons is to take up the writer-in-residence role at Heathrow Airport.
The novelist and journalist will move into a hotel at the west London airport on Wednesday and will stay for seven days.
The author of best-sellers such as Man and Boy, will roam the terminals talking to travellers and staff.
He will then publish a collection of short stories which will be called Departures: Seven Stories from Heathrow.
Parsons said: "Airports are places of extreme emotion where people come and go and experiences begin and end.
"Often when we travel we find ourselves in such a hurry to get to our end destination that we fail to appreciate the individual stories and moments happening before us.
'Incredible opportunity'
"Having grown up reading Arthur Hailey's novel Airport it feels like an incredible opportunity to live at Heathrow and write about the people whose lives are touched by it."
The airport's first writer-in-residence was philosopher and author Alain de Botton who wrote part of his book, A Week at the Airport: A Heathrow Diary, from a desk in Terminal 5 in 2009.
Parsons will be the second person to take up the role.
Heathrow Acting Chief Operating Officer Terry Morgan said: "We are delighted that passengers flying through Heathrow this summer will have the chance to inspire characters in a book by one of the world's most renowned fiction writers."
Five thousand copies of the book will be given away free to passengers before going on sale from October.