Thames Water solar panels at three treatment works sites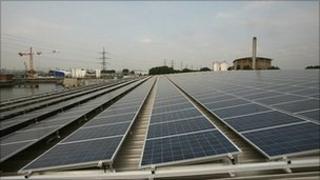 Solar panels are to be installed by Thames Water at three of its sites within the M25.
It will fit them on the roof of the Beckton desalination plant in Newham, east London, and above storm tanks at Crossness in Bexley, south-east London.
They will also be used on redundant sand filters at Walton treatment works in Sunbury, Surrey.
The solar panels are expected to save an estimated £100,000 a year on the firm's £80m energy bill.
The panels will provide enough electricity annually to run nearly 1,000 average-sized homes, Thames Water added.
In total they will be equivalent in size to 15 football pitches, once installed.
A specialist photovoltaic developer, Ennoviga Solar, will maintain the panels.
It will recoup some of its £7m investment by selling the electricity which is produced back to the utility company at a competitive price.