Harrods and Selfridges open London Christmas displays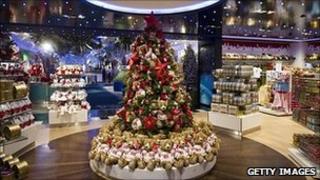 Festive trees, decorations and cards have gone on sale at two department stores in central London, nearly five months before Christmas Day.
Harrods and Selfridges have opened their Yuletide sections, with both saying it was the earliest they had put their winter products on display.
Harrods has positioned an ice rink on the roof of its shop in Knightsbridge and has created 12 festive ice creams.
Selfridges, in Oxford Street, is letting customers make their own trees.
And it predicted high demand for its fake fur animal hats, including stag and polar bear styles.
The company said a 40% rise in international visitors over the past 12 months was among its reasons for selling Christmas merchandise in July for the first time.
Demand from tourists ensured that Christmas was "coming earlier each year", said buying manager Geraldine James.
"I can see a time when we offer a capsule Christmas collection throughout the year," she added.
Harrods has produced a dozen different festive-themed ice cream flavours, including mince pies, mulled wine and even brussel sprouts.
It is offering a life-sized Father Christmas for £2,999 and said it expected to sell enough tinsel to wrap more than 20 football pitches.