Disruptions as Marylebone Road dug up nine times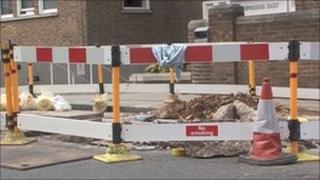 A busy central London road has been dug up nine times in the past 16 months as Thames Water tries to fix a leaking main, Transport for London (TfL) says.
TfL said closure of two lanes in Marylebone Road this weekend had led to "long queues" and was "unacceptable".
Thames Water said the work to identify the cause of seepage at Baker Street station was brought forward by two weeks at the request of TfL.
Pin-pointing an underground leak was "easier said than done", it added.
Two westbound lanes were shut on Saturday night due to the works and were reopened on Sunday afternoon after contractors found they had dug up the wrong place, TfL said.
The road was repeatedly dug up in "unsuccessful attempts to locate a leak", it added.
'Unacceptable failure'
Leon Daniels, TfL's managing director for Surface Transport, said: "We have had another busy summer Sunday with long delays whilst the problem with the leaking water main remains unsolved.
"I contacted Thames Water on Sunday to draw their attention to this unacceptable failure and to demand an explanation.
"I have tasked my team with exercising the closest possible scrutiny over subsequent Thames Water works and through this we will - on behalf of Londoners - apply pressure to ensure that Thames Water do everything they can to limit further disruption."
A spokeswoman for Thames Water said the work to resolve the problem at Baker Street station involved digging chambers to expose the mains, which was difficult on a busy road.
She added: "Pin-pointing an underground leak is often a lot easier said than done, and we are sorry for the disruption over the weekend.
"This work was brought forward on the request of TfL - it had been scheduled to take place in two weeks to allow for further testing to take place.
"We completed the work in the agreed area, however no leak was found. We are carrying out further investigations with TfL and London Underground."
TfL said it was trying to persuade the government to introduce a "lane rental" scheme whereby utility companies will be charged for taking up road space.