Brent library campaigners hopeful over closures ruling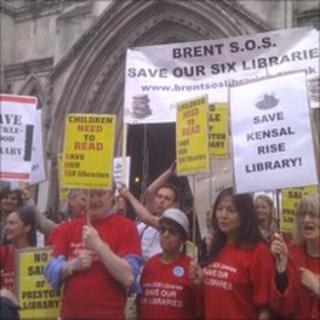 A judge has reserved judgement after campaigners sought a judicial review of a London council's decision to close half of its libraries.
They told Mr Justice Ouseley at the High Court that Brent Council acted unlawfully by failing to assess local needs and the impact of closures.
The case could lead to planned library closures across England being challenged if successful.
Brent Council, which announced the plan in April, refused to comment.
It has said it wants to close six libraries by September 2011.
Spending cuts
The campaign group, Brent SOS Libraries, said the local authority had failed to comply with its statutory duties when deciding to make the cuts.
They argued that pressure from central government on local authorities to cut spending was not an excuse.
Libraries in Kensal Rise, Barham Park, Tokyngton, Preston, Cricklewood and Neasden are facing closure under the plans.
After the hearing a spokeswoman for Brent SOS Libraries said: "We've done all we can. We're hopeful."
Brent council is arguing that the decision of its executive to order the closures was not tainted by legal error.
Musician Nick Cave, playwright Alan Bennett and bands Depeche Mode and the Pet Shop Boys have given their backing to the campaign.