Explosion at Colne Park Caravan Site in West Drayton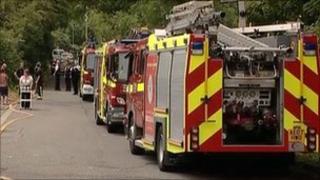 Five people have been taken to hospital after a gas explosion at a caravan site in west London.
Two women in their 70s were the most severely injured, having suffered burns in the blast at Colne Park on Cricketfield Road, West Drayton.
A cylinder is thought to have blown up, gutting two mobile homes and damaging two touring caravans.
A teenage boy and girl suffered minor injuries, and a woman was taken ill, London Ambulance Service said.
Emergency services were called at 1012 BST.
Henrik Webster, who lives over the road from the caravan site, said his house "started shaking and I heard a loud bang".
"There were lots of police and many police cars, as well as firefighters and fire engines. The road was closed for a while but has now reopened."
Glen Gorman from London Fire Brigade said emergency crews "were faced with two mobile homes that had been completely destroyed in the explosion".
"They made sure other cylinders on the site were safe and made a thorough search of the area to ensure all casualties had been accounted for."