Jessica Ennis meets her Madame Tussauds waxwork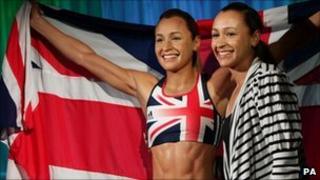 British heptathlon star Jessica Ennis has met her new £150,000 waxwork at London's Madame Tussauds.
The track and field athlete, who has been world number one for the last three years, said she was "blown away" at the lifelike model which she saw unveiled.
Ennis, 25, said: "I cannot believe just how realistic it is."
The waxwork took four months to complete, wears kit donated by Ennis and raises the Union Flag in triumph.
'Real honour'
"They've got me down to a T," said Sheffield-born Ennis, who won heptathlon gold at the 2009 world championships in Berlin.
"Every little detail is so accurate, from the eyes right down to my abs - it is quite strange to be looking at your exact double.
"When they asked me to come down to get measured up it was a real surprise but a real honour and it is very exciting."
Asked about the London 2012 Olympics she said: "Hopefully I will do this one proud."
Madame Tussauds is planning to unveil two more members of the 2012 Team GB, which will be housed in the attraction's Sports Zone.
Madame Tussauds spokeswoman Liz Edwards said: "With anticipation now well and truly building for next year it seems apt that one of the brightest stars of the moment is claiming a place here."