Kuba Dlugosz jailed over Eveline Kelmenson death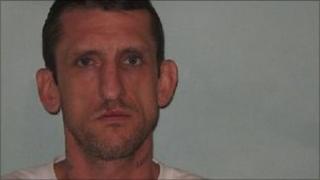 A "professional criminal" who broke into the home of an 83-year-old, robbed her and left her to die, has been jailed indefinitely for manslaughter.
Eveline Kelmenson was tied up in her north London home during a burglary in November 2008 and left alone.
She could not escape and was found five weeks later frozen to death.
Kuba Dlugosz, 33, of no fixed address, who robbed her while on the run after convictions in Poland, was found guilty of manslaughter at the Old Bailey.
Dlugosz, who was convicted of manslaughter, burglary and robbery in June, was jailed for public protection with a minimum term of seven years.
'Painful death'
Judge Gerald Gordon told Dlugosz he was a "professional criminal" who had shown no remorse.
"What happened to Miss Kelmenson was to any right-thinking person unbelievably awful," he said.
"What you did caused an awful end to a decent, innocent, elderly lady's life, something, it is clear, that haunts her relatives and will doubtless continue to do so."
Det Ch Insp Stewart Hill said of his crime: "It was callous and unnecessary to leave a vulnerable pensioner immobile, who subsequently died of hypothermia, which must have been a slow and painful death for her."
Despite twice being arrested by police in the UK in the weeks before the burglary, he was not identified as a fugitive because he gave a different name.
His fingerprint records were not checked against those in his home country, because the arrests were for break-ins rather than more serious crimes.
In 2000, Dlugosz, originally from Bialystok, in Poland, was jailed for two night-time robberies at schools in Bialystok in which caretakers were tied up.
In December 2004, while on home leave he took part in another robbery and received a further sentence.
He was given home leave again in 2007, during which he absconded to the UK with more than five years still to serve in jail in Poland.