Bond actress Angela Scoular died drinking acid cleaner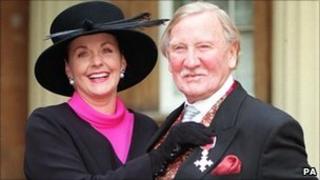 A Bond girl actress who had suffered from bowel cancer ended her life by drinking a corrosive cleaning liquid, Westminster Coroner's Court has heard.
Angela Scoular, 65, who starred in On Her Majesty's Secret Service, died in April.
The actress, who lived in Maida Vale, west London, was battling alcoholism and depression and worried about debts.
Coroner Dr Fiona Wilcox recorded a verdict that she killed herself "while the balance of her mind was disturbed".
Ms Scoular's death was not suicide, the coroner ruled.
The court heard Ms Scoular suffered non-survivable 40% burns to her throat, body and dietary tract.
The cause of death was ingestion of a corrosive substance and multiple fractures, said Dr Wilcox.
The coroner heard the actress died two hours after drinking the liquid, containing 91% sulphuric acid, and pouring it over her body.
The inquest was told Ms Scoular had been diagnosed with cancer in 2008 and was given the all clear after treatment and surgery.
But months before her death she began to fear the return of the disease.
Ms Scoular, who had battled alcoholism for years, used to drink between 150 and 210 units of alcohol a week.
Weeks before her death she was arrested for drink-driving while on bail after crashing her car in Wales.
At the time she was on medication for bipolar disorder, the coroner heard.
The actress had married former Carry On star Leslie Phillips in 1982.
The actor, who is 87, was too ill to attend the hearing but said in a statement read to the court that their life together was happy.
"The only exception was her alcoholism," he said.
"But she was a kind, generous person who would help me with my work and I would help with hers."
Ms Scoular tried to kill herself in 1992 when she cut her wrists with a knife.
She was found by Mr Phillips who said he saved her from being sectioned several years ago.
The actress landed the role of Buttercup in the 1966 Bond spoof Casino Royale and was Ruby Bartlett in On Her Majesty's Secret Service in 1969.
She acted in films, television and theatre during her career, including playing the role of Cathy in a BBC adaptation of Wuthering Heights in 1967.