Two more cycling superhighways hit London's streets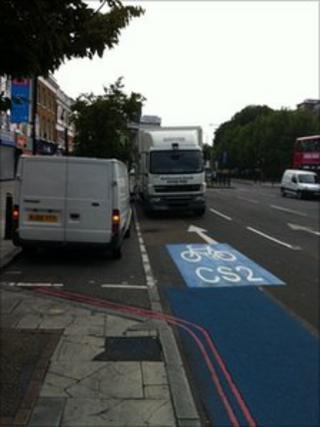 A story drowned out today by the phone hacking scandal is the ongoing expansion of the mayor's cycling superhighways.
So, as well as blue lanes from Merton to the City (CS7) and Barking to Tower Gateway (CS3), two more have opened from Bow to Aldgate (CS2) and Wandsworth to Westminster (CS8).
These lanes cost about £10m each and if you haven't seen them they involve blue smoother surfaces and more branding and signage.
Funding is also aimed at businesses on the routes to encourage cycling.
The pros and cons are well rehearsed.
As I discovered today, they are also sometimes widely ignored - here is a photo of a delivery van parking right in the newly opened lane.
But the two first superhighways according to Transport for London have encouraged cycling massively on those routes.
It says: "Cycling has increased by 46% along the Merton to City route, and by 83% along the Barking to Tower Gateway route. On some sections of the route cycling increased by more than 100%, and over three quarters of cyclists on the routes use them for travelling to and from work."
So some cyclists undoubtedly prefer them and they are in some cases encouraging "critical mass".
I asked on Twitter what people thought of the lanes one year after they opened. Here are some responses:
@garethdeanpr: "I am a regular user of CS7&8 and I believe they make a real difference. Lanes allow space to safely overtake slower users."
@danielblaney: "I'd rather money spent on many small scale projects to improve road space for cyclists than these giant schemes i may not use"
@marcooth: "I avoid cycle superhighways for my cycling needs, largely due to the other cyclists."
@ruthbowes: "Overall I think CSH are a good idea as they encourage, however i don't believe people should rely on dictated cycle paths."
@grimnorth: "Useful press for cycling however blue paint is not the same as infrastructure!"
@pist0lpierre: "Some odd configurations, especially near Shadwell. Mixture of keep left and keep right. Parking in lanes at weekends annoys"
And here's the verdict from the London Cycling Campaign.
Eight more cycling superhighways are planned. Let me know your experiences.