Campaigners challenge Brent library closures in court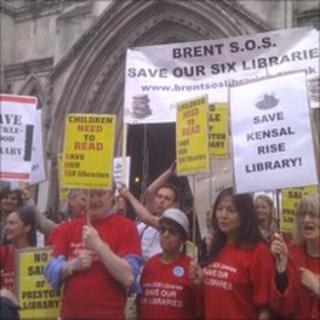 Campaigners are seeking a judicial review of the decision by a London council to close half its libraries.
They argue Brent Council acted unlawfully by failing to assess local needs and the closures impact.
In April the council said it wanted to close six libraries - in Kensal Rise, Barham Park, Tokyngton, Preston, Cricklewood and Neasden - by September.
The case at the High Court could lead to planned library closures across England being challenged.
Brent council is arguing that the decision of its executive on 11 April to order the closures was not tainted by legal error.
Council lawyers say in court documents the decision was "rational, made with great care and was based on a full appreciation of the obligation to act within the law".
A spokesman for Brent Council said it would not comment until after the judicial review.
Musician Nick Cave, playwright Alan Bennett and bands Depeche Mode and the Pet Shop Boys are backing the campaign.
'Wrecking ball'
Campaigners claim the local authority did not give enough consideration to the views of local nurseries and schools, some of which depend on libraries to give pupils access to books.
They also claim the council rejected alternative proposals to run libraries jointly with local community groups to save money.
Local residents packed the courtroom after demonstrating outside the Royal Courts of Justice.
Margaret Bailey, one of those taking legal action, said: "The threatened libraries are important for everyone who lives, studies or works locally, but especially for low income families and their children."
John Halford, of Bindmans LLP which is representing the campaigners, said: "Brent sought to characterise its proposals as a 'transformation' of library services, but in reality it has simply swung a wrecking ball through local services with little regard to the consequences for those who use them."
A spokesman for the Department for Culture, Media and Sport said: "We continue to monitor and assess proposals and decisions being made about changes to library services across England.
"We take very seriously compliance by local authorities with their statutory duty to understand the local needs for library services and to provide a comprehensive and efficient service to match that need."
The hearing continues.